Resin Roof Southampton – Flat Roof System
We have resin systems for almost every application. In this instance one of our existing clients required a waterproof covering for a large flat roof on an outbuilding and other systems had either not been durable enough, too expensive, not given the look the client wanted or not been suitable for this size.
Our Resin Roof system could provide a coloured water resistant finish straight onto the timber and provide a durable roof for many years to come.
We took on this job after it was left in a bad way by one botched attempt so you could say this was a flat roof repair job. This is what it looked like to start with
As you can see it was in pretty bad condition and water had ingressed to the below OSB sheeting and caused leaks internally
There was also a section of new timber sheeting which had been added
We removed any loose material and filled any large voids and ended up having to take a few seams too with a flashing tape then primed the roof and as you can see it looked a 100 times better even at this stage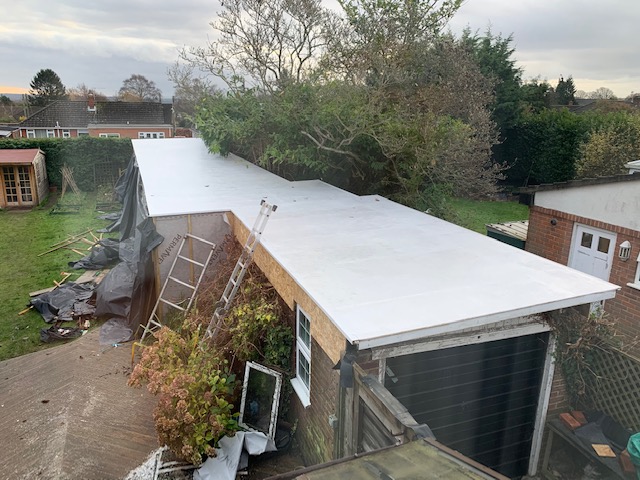 After the primer was dry we gave the roof a few coats of our flexible roof resin and im sure you will agree as far as flat roofs go, it looks great now.
If you are looking for a resin or liquid rubber flat roof sytem get in touch for a FREE quote